Chancellor's Task Force on Staff Engagement
Task Force Recommendations
Concrete action steps based on this report from the Staff Engagement Task Force will be provided soon.
Charge to the Task Force
High levels of engagement impact employee retention and improve organizational performance. Chancellor Wilcox launched the Task Force on Staff Engagement in May 2018 to identify opportunities to enhance staff engagement and develop recommendations for additional actions to increase staff engagement at UCR.
In 2012, UC initiated periodic administration of a survey of non-represented staff to measure employee engagement. The most recent survey was conducted in 2017. In January 2018, an open forum was held at UCR to share both system-wide and campus results, and to obtain feedback about priorities for campus staff.  
Joining the Conversation
All staff were invited to participate in the conversation about improving staff engagement on campus. The Task Force developed a set of preliminary recommendations and solicited feedback from campus groups. Town halls were held between Sept.19 and Oct. 29, 2018. 
A summary of the preliminary recommendations and discussion questions is available in English and Spanish:
Video: Town Hall Highlights
Please see below for a list of topics covered at each town hall.
Timeline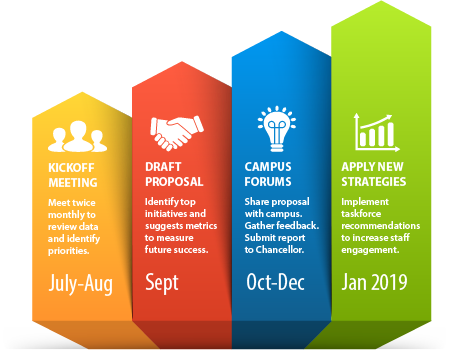 The task force reviewed results from the 2017, 2015 and 2012 surveys as well as recent campus input from the January 2018 forum and from the 2017 "Campus Conversations." Informed by these data, the task force has identified best practices, proposed opportunities for improvements at UCR, and developed recommendations for campus actions to address issues raised by staff, with a goal of increasing staff engagement.  
The task force met twice a month for approximately six months, and put forth recommendations to the Chancellor in December, 2018.  
Learn more about the Staff Engagement Task Force's plan.
Resources
My UC Career
Career Tracks Job Standards
UCR HR Website
UCR Staff Assembly Website
2017 Staff Engagement Survey Results
UCR Today story on Staff Engagement Survey results forum
Task Force Membership
Julie Salgado (co-chair)
CHASS Event Services Coordinator
Jadie Lee (co-chair)
Associate Vice Chancellor for Human Resources
Abril Chavando
Credential Analyst, University Extension
Teri Eckman
Associate Director, Information Technology Solutions
Jeff Girod
Director, CHASS Marketing and Communications
Kenneth Grombacher
HVAC/R and Food Services Supervisor
Kim Huynh
TAPS Events Coordinator, Business and Administrative Services
Fahd Mantara
Financial Services Coordinator, Enrollment Services
Brooke Rodriguez
Human Resources & Payroll Coordinator, School of Medicine
Jason Rodriguez
Financial Analyst, Financial Planning & Administration
Veronique Rorive
Assistant Director, UC Mexico Initiative
Suzy Sharweed
Academic Advisor Lead, College of Humanities and Social Sciences
Kim Underhill
Student Services Advisor, Bourns College of Engineering
John Valdez
Financial and Administrative Officer, Student Affairs
Wilhelmina Van de Ven
Staff Research Associate, College of Natural and Agricultural Sciences
Robert Wolfer
Information Technology Manager, Graduate School of Education
Contact Information
For more information, please contact staffengagement@ucr.edu; co-chairs Julie Salgado (julie.salgado@ucr.edu) or Jadie Lee (jadie.lee@ucr.edu); or staff support Beth Claassen Thrush (elizabeth.thrush@ucr.edu).